Exhibition
—
Engineering Sketches Prize 2018
—
Opening: 15 November 2018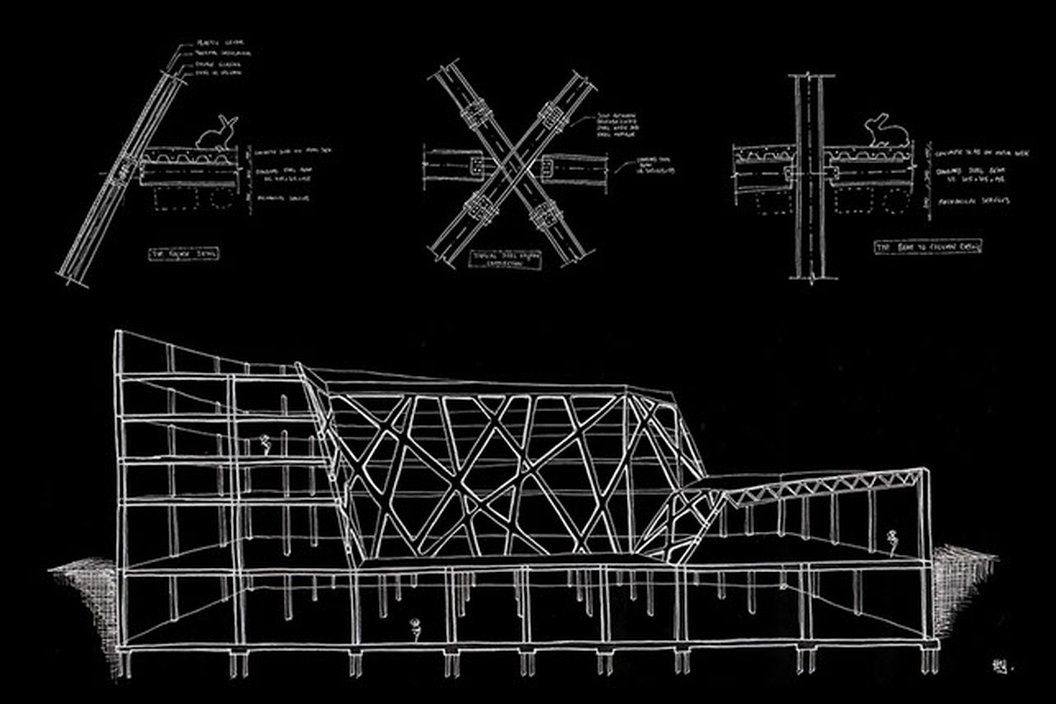 Venue:
The Building Centre,
London
WC1E 7BT
Costs:
Free of charge
Share this exhibition:
This is the seventh Engineering Prize run by the Engineering Club in association withD R A W I N G A T W O R K.

Engineering Sketches aims to encourage the greater use of hand-drawing techniques to communicate designs and ideas in engineering. It is an opportunity for the profession to get together to share examples and compare skills, rewarding the best examples of engineering drawing in a number of categories.

Who can enter?
Entrants can be from any design or construction discipline – both engineering and non-engineering, as long as the subject of their drawing/drawings is of an engineering nature. This year we have added a student prize for all the categories. Entrants can submit multiple sketches from different projects, but be wary of overloading the judging process.

The competition is free to enter.
By joining the competition entrants give consent to their drawings being used in Engineering Club and D R A W I N G A T W O R K publicity and educational material.

Key dates
Launch event: 8 October 6.30pm, The Art of the Engineer - a Talk by Trevor Flynn of D R A W I N G A T W O R K.

Closing date for entries: 31 October 2018.
Judging will take place on 8 November 2018

Prize-giving and exhibition opening: 15 November?2018 at The Building Centre, Store Street, London WC1. This will involve the announcement of prizes, a drinks reception and a short presentation by a guest speaker.

The exhibition of winning and commended entries and a selection of other sketches will be on display Gallery 2 at the Building Centre from 15 to 30 November 2018.

Prizes

The judges will award two main prizes
£500 for the best overall sketch by members and non-members
£250 for the best student sketch

In addition, there will be a Winner, Commended and Student Prize (£250, £100, £100) in each of the following categories:

Concept Sketch - or group of sketches: an explanation of a design proposal for a project or a construction element. This is a sketch or combination of?sketches which?presents ideas, strategies and systems for a project which, at the time of the sketch, has not yet been built. In the past, entries have ranged from minimal engineering idea sketches, to multiple structural and environmental engineering proposals.
Process Sketch - showing how an idea is worked through to produce a conclusive construction brief. These sketches may be procedural sequences that tell the story of a design development. They may show construction sequencing. They may include combinations of section, single point perspective, isometric, oblique, exploded diagrams etc.??

The Detail Sketch - showing the explanation of a detailed engineering solution in the design office or on site. For example, site notebook sketches which resolve design issues where the detail is not apparent on the drawings. These sketches are often immediate and informal ("quick and dirty") and are used to communicate how something can be laid out or put together

Historical Studies - which record the engineering aspects of an existing building, object, system or mechanism. Examples in previous competitions have included ancient buildings, vehicles, favourite pieces of contemporary architecture and studies of engineering objects and mechanical systems.

Digital Sketching - This is a new category for sketches in all the categories above but originating as a hand drawn sketch on a digital device or tablet.

The judges will be looking for drawings that show a combination of technical knowledge, sketching skill, and?invention in the way engineering?ideas are communicated and explained.??

How to Enter
Each entry should have an informative title and can be accompanied, either in a covering note or on the drawing itself, by a short sentence explaining the intention of the sketch.